Every December, our team likes to take a step back and reflect on the last 12 months at GBU. Below are some of the highlights.
We relocated our Plymouth Care Center from 51 Obery Street to 45 Home Depot Drive.
As the leader in prostate cancer care on the South Shore, we wanted to create a space that reflected this reality. This project had been in the works for quite a while, complete with pandemic-related delays. But the result was worth the wait.
Our new location at 45 Home Drive in Plymouth offers so many benefits to our patients and staff alike:
Only one mile away from the old location on Obery Street, making it easy for patients and staff to transition

One-level—no stairs, no ramps

Plenty of parking

Much bigger space—we went from 3,500 square feet to 10,000

Eleven exam rooms, six procedure rooms, and two ultrasound rooms

Three full-time urologists, a full-time urogynecologist, and a full-time nurse practitioner, physician assistant, and sonographer




Check out some of the pictures below . . .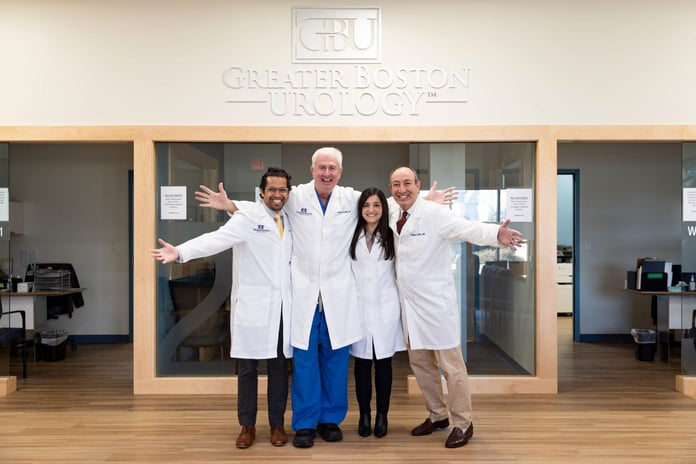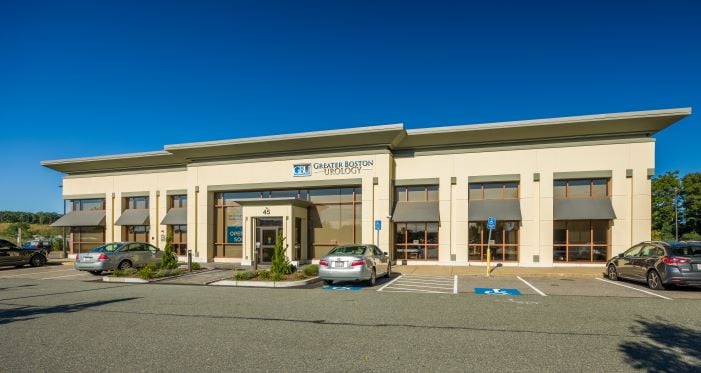 We also doubled our space in Framingham.
This renovation happened in late 2021, but we know people might have missed that news, which is why we're mentioning it again here. We expanded our existing Framingham Care Center by 2,300 square feet. The Center remains in its current location at 161 Worcester Road. The expanded space makes for much more comfortable waiting rooms and exam rooms.
Two new physicians joined the practice.
Dr. Mark V. Silva joined our Plymouth Care Center over the summer as one of our full-time urologists. In the fall, Dr. Dima Ezzedine joined our Plymouth Care Center as a full-time staff urogynecologist. (Dr. Angel Marie Johnson continues to direct our Women's Health Centers in Dedham, Hyannis, and now Plymouth.)
Both Dr. Silva and Dr. Ezzedine have contributed excellent articles to our blog about topics like surgical options for kidney stones and pelvic organ prolapse. Below is a picture of Dr. Ezzedine (left) and Dr. Silva (right).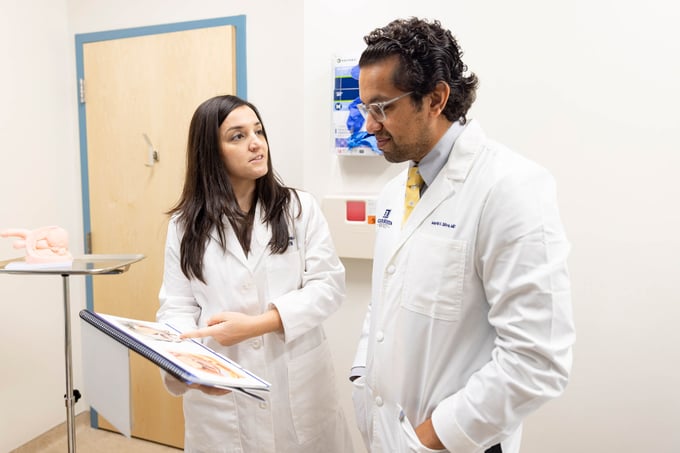 We welcomed more nurse practitioners, nurse navigators, physician assistants, and ultrasound technicians to the practice.
This year, we welcomed Kevin Lai, a full-time physician assistant in our Framingham Care Center, and Kristin Predella, an ultrasound technician, who rotates between Care Centers. We also welcomed two nurse practitioners to the GBU family. Meagan Smoyer works out of our Hyannis Care Center, and Olivia Logan works out of our Falmouth Care Center.
We also named Celeste Sanches as nurse navigator for patients suffering from overactive bladder (OAB). Celeste is a long-time GBU staff member who started as a medical assistant and pursued her nursing degree while working for us full time. Celeste is based out of our Framingham Care Center, but she sees patients throughout the GBU network.
On the administration side, Beth Piece joined our management team as our finance manager.
We had our best year of fundraising yet for the 2022 ZERO Prostate Cancer Run/Walk.
We were back to an in-person gathering for our signature event that raises awareness about prostate cancer along with critical dollars. This year, Team GBU raised $14,948, and the Boston Walk raised $151,582—we were thrilled to break the $150K mark!
And yes, there's still time to donate.
Our doctors continue to get the word out about their work and areas of expertise.
Our doctors regularly appear in webinars and provide interviews. Here are some highlights from the last year.
GBU opens the Interventional Radiology Centers at Greater Boston Urology in Plymouth, Mass.
Earlier this month, we opened the Interventional Radiology Centers at Greater Boston Urology at the site of our former Plymouth Care Center at 51 Obery Street. Right now, eligible GBU patients can receive interventional radiology (IR) treatments (such as prostate artery embolization or PAE) in our Obery Street office. Dr. Hesham Hafeez Malik serves as our full-time interventional radiologist.
Interventional radiology (IR) is minimally invasive and doesn't require anesthesia. Recovery times are a lot quicker, too. Read more about what IR is in this article. In a few months, we'll be opening up the IR service line to patients outside of GBU as well.
Coming up in 2023 . . .
We're looking forward to welcoming Dr. Kevin Killeen to our Hyannis Care Center. Dr. Killeen recently retired to the Cape, but he wants to continue working with patients part-time. Dr. Killeen is a graduate of Tufts University School of Medicine and has a wealth of knowledge. He'll be a welcome addition to our team on the Cape. We're also looking forward to new (additional space) at our Milton Care Center opening in March.
We have more great stuff in store for 2023, so stay tuned! Until then and on behalf of all of us at GBU, we wish you and your family a joyful holiday season and a healthy 2023.
PS: You can read past highlights here: