Every December, we reflect on the year that was—while looking ahead to the next twelve months. Of course, the end of 2019 (!) is doubly special in that it also marks the end of the second decade of the 21st century.
Let's get to it . . .
GBU Expands Patient Services & Diagnostics/Treatment Protocols
As an integrated urology practice, our goal is to offer patients everything they need—under one roof—for their urologic care. As part of this endeavor, we're constantly evaluating new equipment and treatment protocols. Over time, we add what makes the most sense for our patients. Here are some updates from this last year:
GBU Physicians Educate
Our physicians enjoy educating people about urologic topics. We have an extensive video library, and this year, we've added several new videos:
GBU physicians don't simply educate patients, either. They're constantly educating themselves on the latest research, treatments, and regulations regarding urologic conditions.
GBU physicians attended the annual meeting for the New England Section of the American Urological Association in Providence, Rhode Island.
Ryan Frankel represented GBU at the BlueCross BlueShield of Massachusetts OB/GYN and Urology Practice and Standards Meeting.
Curran, Fitzgerald, & Frankel along with Mr. Cavicchi attended the annual Large Urology Group Practice Association meeting in Chicago.
GBU Says Hello to New Family
Alicia Jeffrey-Thomas joined GBU as our pelvic floor physical therapist in Dedham. We also hired a nurse navigator, Melissa Jorge, RN. Melissa works directly with our prostate cancer patients and helps them manage their ongoing care. Our Falmouth office welcomed two new physician assistants: Raemond Libranda and Joseph Flagg. And our Dedham Care Center welcomed a new physician assistant as well: Virginia O'Neil. (By the way, do you ever wonder what the difference is between an MD and a physician assistant? One of our wonderful physician assistants provides an overview.)
GBU in the News
GBU Gives Back
For the second year in a row, GBU was the premier local sponsor of the Bladder Cancer Advocacy Network (BCAN) fundraising and awareness walk in Boston, which was held on May 18.
GBU participated in the Massachusetts Prostate Cancer Coalition Symposium on May 10, 2019. Dr. Michael Curran and Dr. James M. Fitzgerald participated along with our Vice President of Operations, Beth Mog, and our Nurse Navigator, Melissa Jorge. In addition, Dr. Fitzgerald gave a presentation on SpaceOAR Hydrogel.
In honor of Prostate Cancer Awareness Month, GBU was once again the lead sponsor of the ZERO Prostate Cancer Run/Walk held in Newton on September 8. Over 450 people participated, and $137,234 was raised! Team GBU was strong with 75 participants! Mark your calendars for next year's run/walk on Sunday, September 13, 2020.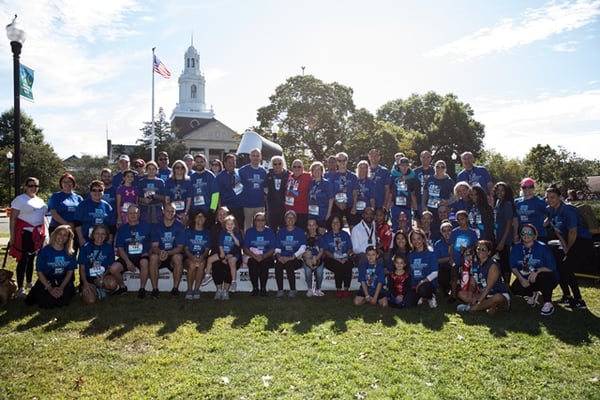 One of our physician assistants, Elisabeth MacDonald, went on a mission to Malawi. That's her in the scrubs below!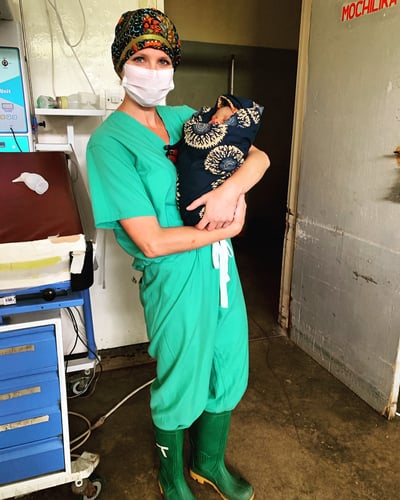 GBU Looks Ahead to 2020
GBU will be celebrating its tenth anniversary in 2020! We'll have more to share regarding this milestone in the coming months.
We're also looking forward to opening two new Care Centers: Hyannis and Worcester.
We'll be expanding pelvic floor physical therapy to other Care Centers as well (the search is underway for a second pelvic floor physical therapist).
We look forward to our continued involvement with ZERO and BCAN as we collectively push to find cures for prostate cancer and bladder cancer.
And, of course, this is an incomplete list. There will be much more to come next year, so stay tuned!
In the meantime, on behalf of all of us at GBU, we wish you and your family a joyful holiday season and a healthy and prosperous 2020.
PS: Make sure you're following us on social media!
On Facebook and Twitter, we're always sharing relevant information about urology-related topics, our doctors, and GBU in general. Definitely give us a follow! And subscribe to our YouTube channel as well.
Read past highlights here:
Greater Boston Urology: The Best of 2018
Greater Boston Urology: The Best of 2017
Greater Boston Urology: The Best of 2016