Every December, we reflect on the year that was—while looking ahead to the next twelve months. To say 2020 has been challenging would be an understatement. COVID-19 has caused innumerable hardships and heartache. A return to "normal" is still a long way off.
How GBU navigates during a pandemic
Even in the early days of the pandemic, our physicians believed strongly that Greater Boston Urology should remain open. And so, we have.
The goal with staying open has always been two-fold. First, to continue to safely provide our patients with the quality care they've come to expect from GBU. Second, to provide patients with a viable alternative to overburdened ERs and urgent care centers.
After all, why go to the ER with your kidney stone or UTI, overwhelm the system, and possibly put yourself at risk for COVID-19 when GBU can provide the care a person needs, thanks to our nine conveniently located Care Centers?
Of course, we couldn't have done any of this without our incredible people. We are so grateful to our entire staff for their dedication and commitment during this time—not only our physicians, but also our physician assistants, nurse practitioners, pelvic floor physical therapists, medical assistants, front office staff, and administrative staff.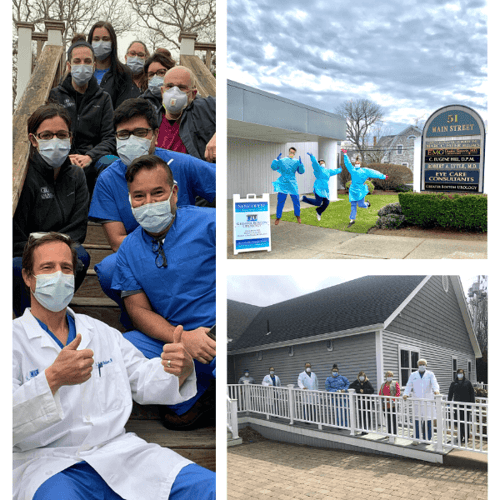 While the pandemic has certainly dominated 2020, even within our own hallways, we wanted to make sure we highlighted some of the positives that happened in 2020 as well. Below, you'll find a recap along with a sneak peek at some things in store for 2021.
GBU Offers Telemedicine
We'd been looking into telemedicine long before the pandemic hit. But once COVID-19 arrived on our doorsteps, we knew we had to launch it.
Our telemedicine provider is Doxy.me. Now, patients can have virtual office visits with their GBU doctors from the comfort and safety of their own home. We understand technology can be intimidating, but the good news is it's an incredibly straightforward process. We provide all the steps here.
GBU Opens a New Care Center in Hyannis
We're proud to bring Boston-quality care to the Cape. In addition to our Falmouth and Sandwich Care Centers, we now have a Care Center on Main Street in Hyannis.
GBU Expands Its Lab Capabilities
One of the many things that sets Greater Boston Urology apart is that we have an in-house laboratory accredited by the College of American Pathologists (CAP). Our lab specializes in urologic pathology, and we maintain a rigorous chain of control over patient specimens.
This year, we added polymerase chain reaction (PCR) genetic analysis capabilities for our urine studies. The PCR analysis can identify more bacteria than traditional urine cultures in patients with things like UTIs. This gives our doctors greater insight into how to effectively treat patients.
GBU Physicians Keep on Educating (Remotely)
Our doctors are passionate about educating people on urologic conditions and the many treatment options available. Over the last 12 months, we've held numerous webinars about things like BPH, pelvic organ prolapse, and SpaceOAR Hydrogel (just to name a few).
These webinars have been so successful that we're going to continue offering more in 2021. To find out what events we have coming up, you can head over to our Events page. Whenever possible, we'll share recordings from past webinars on this page. This way, you can still learn now, even if you couldn't attend then.
BONUS: And in case you missed it, our own Dr. Justin Gould was interviewed by Gregg Daniels & Fast Freddy on Mix 104.1. The topic? Vasectomies. Give it a listen. It's very funny.
GBU Expands Pelvic Floor Physical Therapy
Pelvic floor physical therapy has been such a huge success that we expanded the offering to patients outside of GBU (outside patients simply need a prescription from their doctor).
We also brought on a second pelvic floor physical therapist to our family: Dr. Tonya Yanok. She's fitting right in and has contributed several items to the blog, including one of the therapies she offers: dry needling.
And we'd be remiss if we didn't point out that Dr. Alicia Jeffrey-Thomas, our founding pelvic floor physical therapist, has garnered quite a following, both in our Dedham Care Center and on Instagram (an account she manages with Dr. Angel Marie Johnson) and TikTok. (Check out this article from Well + Good where Dr. Jeffrey-Thomas discusses bladder health.)
GBU (Virtually) Walks
Our two signature events—the ZERO Prostate Cancer Walk/Run and the BCAN Walk to End Bladder Cancer—went virtual this year due to the pandemic. But that didn't stop people from participating or raising valuable dollars.
Having raised over $867,000 this year, BCAN is accepting donations for 2020 through December 31. For the ZERO Prostate Cancer Run/Walk, GBU raised over $10,000, and the New England group raised close to $100,000. And yes, there's still time to donate!
GBU Turns 10
Back in February, we shared an article that talked about what "turning 10" means to us here at GBU. February feels so long ago now that we almost forgot about it. But yes, it's true: GBU celebrated 10 years in business in 2020!
GBU Looks Ahead to 2021
We're excited to announce that we're moving our Plymouth Care Center into new digs later in 2021. Don't worry: the Center will be staying in Plymouth. But it will have much more space and include a Women's Health Center as well. Below is a sneak peek of the "before" picture.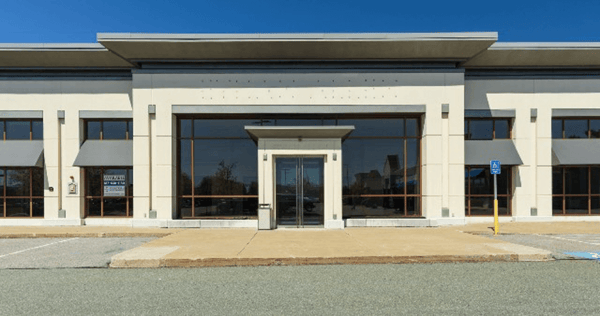 We're also expanding our existing Framingham Care Center by 2,300 square feet. The Center will remain in its current location at 161 Worcester Road. It should be ready by April 1, 2021, after some renovations. More to come on this, along with other goodies, in the new year.
And, of course, we all look forward to the launch of an effective vaccine and a return to some semblance of normalcy.
Until then, on behalf of all of us at GBU, we wish you and your family a joyful holiday season and a healthy 2021.
PS: You can read past highlights here: