This past April, one of our wonderful physician assistants, Elisabeth MacDonald, traveled to Malawi where she spent two weeks in the Kasungu District as part of the nonprofit organization Bridges to Malawi. One of the organization's founders is Dr. Brian Lisse, an Associate Clinical Professor of Emergency Medicine at Tufts University School of Medicine.
Bridges to Malawi has various missions:
Provide supplies and health care to local communities
Help improve the Malawian healthcare system
Establish solar power technology for schools without electricity
Arrange educational opportunities for orphans
Two Weeks in Malawi
During her mission trip, Elisabeth divided most of her time between Kusungu District Hospital and St. Andrews Hospital, the latter of which is a small private hospital in the village of Mtunthama.
Elisabeth says, "Both hospitals are often overcrowded, lack nursing staff, and face a constant shortage of medications and/or medical supplies. Kusungu's small pediatric department fills quickly, leaving some patients sharing beds or on the floor. Lab testing and radiologic imaging are frequently unavailable due to lack of supplies or broken equipment."
She and her group, which consisted of 12 healthcare professionals and 12 students, also conducted mobile clinics in remote villages, traveling with a mobile pharmacy and malaria-testing center. "We diagnosed and treated over 400 individuals in the village of Mkanakhoti. Out of those 400 people, 108 tested positive and were treated for malaria. We were also able to diagnose various conditions, such as bladder cancer, hydronephrosis, and renal calculi by traveling with a Butterfly IQ portable ultrasound," she says. "Various other urological issues I encountered included BPH, priapism, genital ulcers/STDs, and schistosomiasis."
In addition to providing healthcare, Elisabeth and her team built a woman's hostel at a secondary school and donated 31 computers to schools that they'd previously equipped with solar power.
Always Willing to Serve
This wasn't Elisabeth's first humanitarian trip, either. In 2016, she traveled to the Dominican Republic with a nonprofit organization called Seeds of Hope for La Victoria. Their mission was to provide primary care, dental exams, and woman's health screenings to local residents. They also distributed medications, supplies, and health education to the local community.
In 2013, she traveled to Cape Coast, Ghana, with a US-based nonprofit organization called Healthcare Volunteers International. She had a wide array of duties in Ghana, ranging from assisting U.S. surgeons with complex cases to working alongside Ghanaian doctors in an effort to better understand local illness and healthcare standards. Elisabeth adds, "I also taught Basic Life Support to Ghanaian medical students at Cape Coast Teaching Hospital, and I had the opportunity to spend a day at the local orphanage performing health screenings and providing shoes and other hygienic supplies."
What drives her passion for these mission trips? Elisabeth says, "Disease has no boundaries, so I feel care should be the responsibility of all. These people display the most generous amount of happiness and gratitude, yet hold the least amount of resources. That alone makes me want to help more. I saw the world much differently after my very first trip, and I knew I was hooked. In addition to helping others, and learning about diverse cultures, it's also very refreshing to break away from life distractions we have here in the States, such as our cellphones and the internet."
Below, Elisabeth takes us on a visual journey of her trip to Malawi.
Elisabeth stands in front of St. Andrews Hospital in Mtunthama where she treated patients experiencing various types of conditions.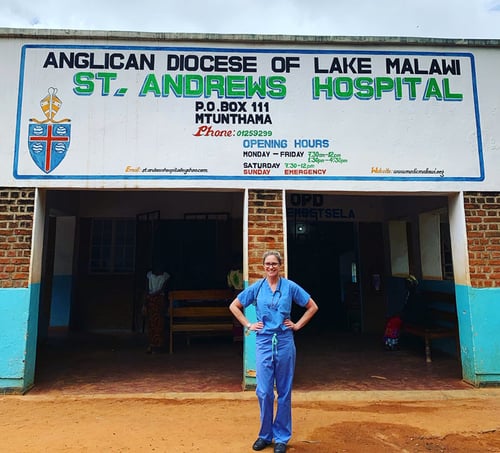 Elisabeth (pictured below on the far right) and two members from her group hoist water buckets as part of their work at the construction site.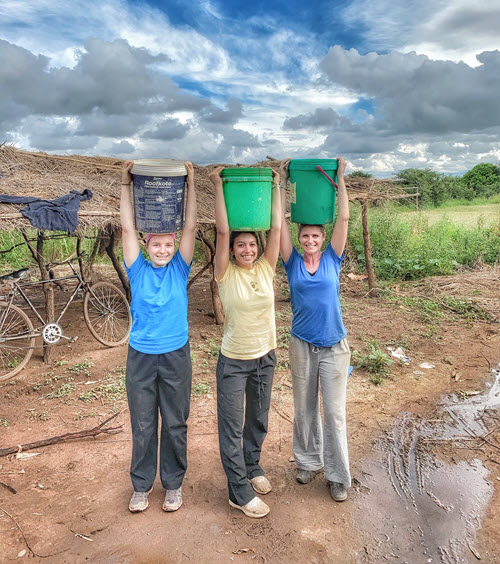 In this shot, Elisabeth tends to a Malawian child with a suspected snake bite. Treatment was delayed due to lack of transportation to Kasungu District Hospital.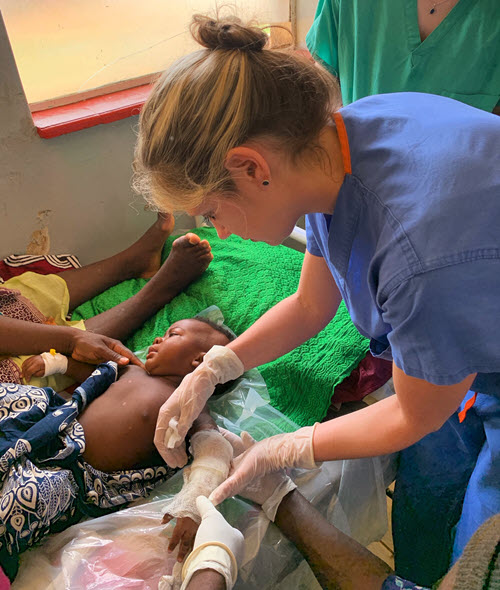 And finally, Elisabeth assists to deliver a healthy baby boy by cesarean section.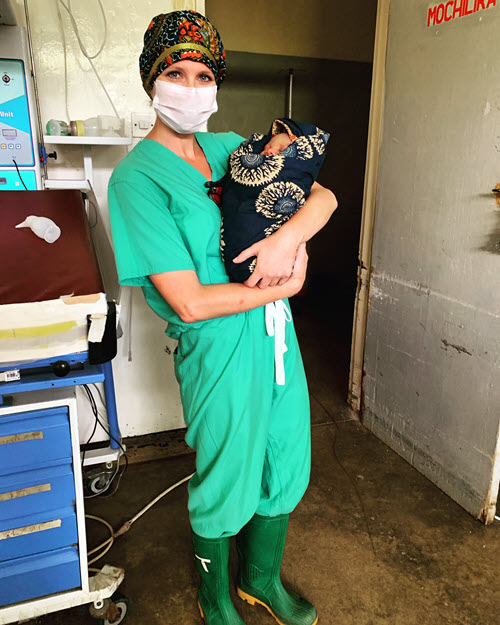 Thanks, Elisabeth, for the excellent work you do at our Care Center in Hyannis—and around the globe!
---
Watch: What is a Physician Assistant?