Today, Dr. James M. Fitzgerald joins us on the blog for a Q&A about SpaceOAR™ Hydrogel. As with all content on Greater Boston Urology's blog, the following information is educational in nature, not medical advice. Always talk to your physician about your specific health care questions and conditions.

[Editor's note: This article was reviewed and updated on 7/21/21 with additional links.]
What is SpaceOAR Hydrogel?
DR. FITZGERALD: Many men choose radiation therapy to treat their prostate cancer. The rectum is considered to be the "Organ at Risk" (OAR) during radiation because there is very little space between the back side of the prostate and the front side of the rectum.
SpaceOAR is a man-made gel substance that is placed to create a temporary space between the prostate and rectum. SpaceOAR Hydrogel helps to protect the rectum, which is right next to the prostate, from the potentially harmful effects of the radiation. (See the images below.) SpaceOAR Hydrogel is absorbed by the body in 3-6 months.
Figure 1: before SpaceOAR Hydrogel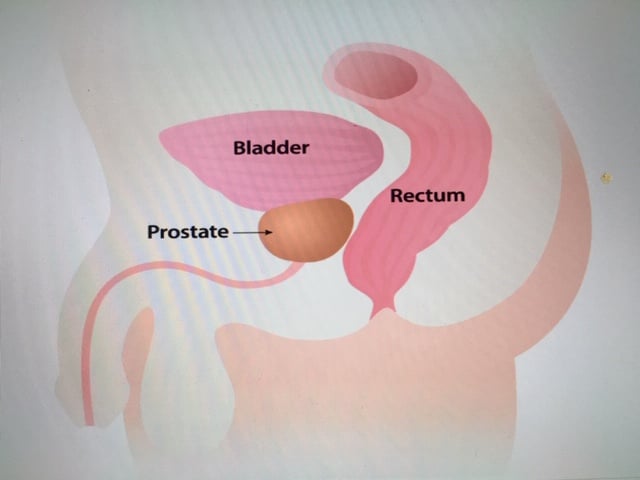 Figure 2: after SpaceOAR Hydrogel has been applied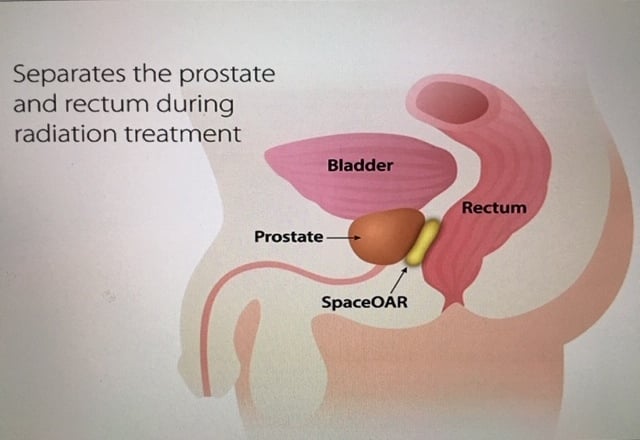 Figure 3: side-by-side view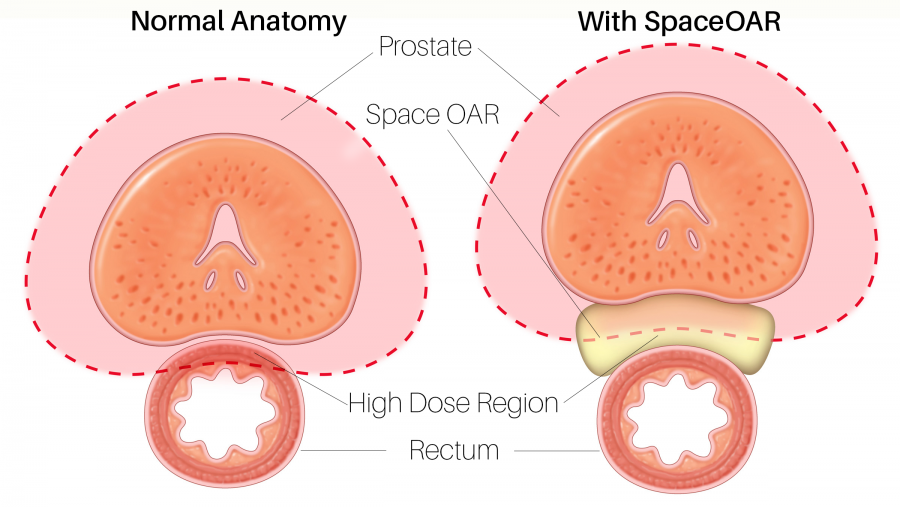 How is SpaceOAR placed? Are patients awake during the procedure? Does it happen in the office or surgical center/hospital?
DR. FITZGERALD: Patients are typically awake during the procedure, which is usually well tolerated in the office with local anesthesia. The vast majority of our patients are able to have it done safely and with mild discomfort in the office at our North Easton, Plymouth, and Falmouth Care Centers.
Alternatively, if a patient prefers, we can place the SpaceOAR Hydrogel while the patient is in the hospital under general anesthesia. Dr. Stephen Craig Gillard from our Plymouth Care Center places SpaceOAR in the operating room at BID Plymouth Hospital.
Is SpaceOAR safe? Is it FDA cleared?
DR. FITZGERALD: Space OAR is very safe and is FDA cleared. It is made of mostly water, and this type of gel material that makes up SpaceOAR Hydrogel has been used in other human implants in the spine, the eye, and the brain. It is absorbed by the body over time and does not need to be removed. It has been used in more than 50,000 patients throughout the world.
Who should consider SpaceOAR? Who shouldn't?
DR. FITZGERALD: Most patients who will be having radiation for prostate cancer should consider having SpaceOAR Hydrogel to minimize any rectal damage from the radiation while allowing more effective treatment of the prostate cancer by the radiation. Any patient considering radiation for their prostate cancer therapy should discuss SpaceOAR with his radiation oncologist and urologist.
Are there any potential side effects/risks?
DR. FITZGERALD: The most common side effects are minor bleeding, swelling, and mild pain at the injection site behind the testicles and in front of the rectum (the perineum) and the sensation of needing to move your bowels. This is usually improved with time and by an ice pack as well as pain medication (Tylenol or ibuprofen).
There are uncommon risks of more significant bleeding from the site, infection, difficulty urinating requiring a catheter, needle penetration of the structures near the prostate (wall of the rectum, bladder, urine tube), and other very rare risks.
In your experience, how have your patients responded to SpaceOAR?
DR. FITZGERALD: Patients have tolerated SpaceOAR and their subsequent prostate radiation well.
Does health insurance typically cover SpaceOAR?
DR. FITZGERALD: Medicare now covers SpaceOAR. As with many medical procedures, coverage can be variable with private insurance. Some companies cover it; some might do so with a prior authorization; unfortunately, some insurers do not cover SpaceOAR at this time.
The good news is that coverage is improving with time. Hopefully, as the evidence supporting the benefits of SpaceOAR continues to grow, more private insurance companies will cover it. If your insurance company denies you coverage, you may appeal the decision and your doctors will help to advocate for the procedure in any way they can.
"I think I'm interested in learning more about SpaceOAR. What should I do next?"
DR. FITZGERALD: Any man who plans to have radiation therapy for his prostate cancer should ask his urologist and/or radiation oncologist about SpaceOAR. As mentioned, GBU patients have SpaceOAR Hydrogel placed in our North Easton, Plymouth, and Falmouth Care Centers.
We have been referred patients from other urologists and radiation oncologists who do not place SpaceOAR themselves but realize the benefits to their patients. We welcome patients from outside of GBU to have us place their SpaceOAR Hydrogel. We place the SpaceOAR and then the patient returns to his urologist and radiation oncologist to continue his treatment and ongoing care.
Thanks, Dr. Fitzgerald!
If you need a urologist, click here to schedule an appointment with a Greater Boston Urology physician.