We're thrilled to welcome our newest urologist, Dr. Mark V. Silva, to the Greater Boston Urology family. Dr. Silva will be working out of our Plymouth Care Center at 45 Home Depot Drive.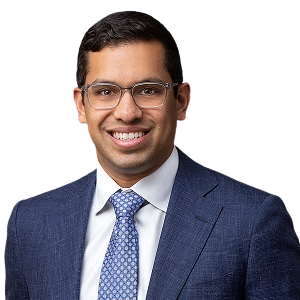 Dr. Silva earned his medical degree from the Renaissance School of Medicine at Stony Brook University in Stony Brook, New York. He completed a general surgery internship and urology residency at Columbia University Medical Center/New York Presbyterian Hospital in New York City. Prior to joining GBU, Dr. Silva served as Director of Endourology and Assistant Clinical Professor of Urology at NYU Langone in Brooklyn.
We asked Dr. Silva to sit down for a short Q&A.
When did you know you wanted to become a doctor? Was there one a-ha moment or did you come to the decision over time?
DR. SILVA: For me, there was never an "a-ha" moment. Both my parents are physicians (my dad is also a urologist), so they always gently nudged me towards the field. During college, I did all the pre-med requirements but excelled in chemistry with a strong appreciation for organic chemistry. I received a research grant from Bristol Myers-Squibb and was offered a job as a research scientist after graduating from Trinity College. During my time there was when I realized I loved science and medicine but missed the patient interaction. So that's when I decided to continue my career in patient-facing medicine.
What inspired you to pursue urology as your specialty?
DR. SILVA: Some would think that my dad being a urologist pushed me into the field, but it was the exact opposite. I loved the diversity of the specialty ranging from female incontinence to cancer to kidney stones—and the surgeries and technologies used in each. I remember when I told my dad "So I think I want to apply for urology." His response was "Really? Are you sure?!" After telling him why I loved the field, he admitted that he was just testing me and that he loves urology and my decision.
What do you love most about practicing medicine?
DR. SILVA: Nothing brings me more joy than patient satisfaction. Coming to a urologist leaves a patient in their most vulnerable state, and it is my job to comfort them and help them manage whatever issue they are coming to me for. Whether it's a surgery, lifestyle modifications, or starting a medication, it is all new and scary to the patient. It is my job to guide them through treatment and recovery to the best possible outcome I can provide.
Tell us a little about yourself—outside of work, what do you like to do? What's a fun fact that not too many people know about you?
DR. SILVA: I like to keep my life easy going. I enjoy cooking with my wife, working out either on our peloton or out for a trail run, and bringing out my two wonderful daughters. As for a fun fact, my wife and I try to watch every Hallmark Christmas Movie each year.
Aside from getting settled in GBU's Plymouth Care Center, what are you most looking forward to doing in the greater Boston area?
DR. SILVA: I am very excited to explore a new city! I would love to take my girls on the duck tours, hiking the blue hills, and enjoying the nature that New York City could never provide.
Is there anything else you'd like your future patients to know?
DR. SILVA: I am excited to join the community and meet the people of Plymouth. I am honored to help treat your urologic issues, and no complaint is too simple or complex. You should never feel embarrassed coming to the office. If anything, I am proud of everyone who comes in and takes the initiative to look over their physical and mental health.
Interested in making an appointment with Dr. Silva?
Dr. Silva is accepting new patients in our Plymouth Care Center. Click here to make an appointment with him or one of our other world-class physicians.