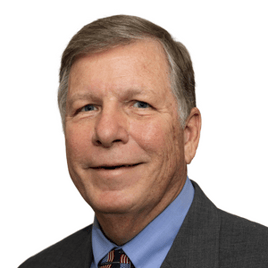 Dr. Kevin P. Killeen is a long-time urologist who recently joined our Hyannis Care Center.
Dr. Killeen earned his medical degree from the Tufts University School of Medicine in 1983. He served as an intern in surgery at St. Elizabeth's Hospital in Boston, and he completed his residency training at Lahey Clinic in Burlington, Mass.
Prior to joining GBU, Dr. Killeen spent thirteen years at Berkshire Medical Center in Pittsfield before semi-retiring to Cape Cod.
We asked Dr. Killeen to sit down for a short Q&A, which you'll find below.
1. Tell us a little about your background, including where you grew up.
DR. KILLEEN: I grew up in Western Massachusetts. My father was a postal clerk and WWII veteran, and my mom was a full-time homemaker. I went to the University of Connecticut where I graduated in 1978 as a clinical dietician.
2. When did you know you wanted to become a doctor? Was there one a-ha moment or did you come to the decision over time?
DR. KILLEEN: During my time at UConn, I met a physical therapy student whose father was a physician. The student suggested that I should consider a career in medicine. And I did just that.
After graduation, I directly entered summer school to complete the undergraduate requirements to apply to medical school. Given the delay, I took the MCATs (Medical College Admission Test) and worked for a year as a clinical dietitian at Cardinal Cushing Hospital (as it was known at the time) in Brockton, Mass.
I was able to enter medical school in 1979. But I have to say that working in a hospital as a dietitian gave me an insight into medicine that has served me well over the years.
3. What inspired you to pursue urology as your specialty?
DR. KILLEEN: When you enter medical school, the first decision you have to make is whether to pursue a career in medicine or surgery. I do like to work with my hands, and I found the surgeons much more to my liking and personality.
As for urology, my first introduction was watching a surgical procedure called a coagulum pyelolithotomy—a type of kidney stone treatment that doctors don't perform anymore since stone treatment has evolved considerably since the 70s and 80s.
At the time, however, they did an open operation on the kidney, opened the drainage system or the collecting system of the kidney (where the urine is transported into the bladder), placed the elements that allow clotting of blood to form a "coagulum," and used suction to remove the "clotted" material and the stones.
That was definitely a unique experience, and it got my attention. I was interested in urology from then on out.
What I love about urology is the variety I encounter in my daily practice, particularly in the operating room. Urology has allowed me to operate not only under a microscope, but also with an actual scope as well as under magnification and with open surgical techniques for both adults and children.
Also, since urologists work "down there," I can use some scatological humor and remain professional. People are stressed when they see any physician, and even more so when the doctor is a urologist. I do try to use some humor, respectfully, to help them through whatever difficulty brought them to us in the first place.
4. You've been practicing surgery for 40 years. What do you love most about the work that you do?
DR. KILLEEN: The part I love the most is working in the operating room. Every day is different, and it always gives me new challenges.
5. Tell us a little about yourself. Outside of work, what do you like to do? What's a surprising/fun fact that not too many people know about you?
DR. KILLEEN: I am very introverted. I think of myself as a workaholic and a stoic. I enjoy being out in the woods by myself (much to the displeasure of my spouse), especially in the winter because I love being close to nature and being responsible completely for myself.
6. You recently relocated to the Cape from Western Mass. Aside from getting settled in GBU's Hyannis Care Center, what are you most looking forward to doing on the Cape this summer?
DR. KILLEEN:Actually, that's not exactly correct. We had a home in Centerville many years ago, and we had a condominium in Hyannis for the last 10 years. (We've since bought our "winter" retirement home.) We've always loved the Cape, and I was always interested in working here. It is a great personal pleasure that I will finish my career here on Cape Cod.
7. Is there anything else you'd like patients to know?
DR. KILLEEN: It has been a true honor and privilege to take care of so many people over four decades. People have told me some of the most personal and private things over the years, placing their trust in me to take care of them, and I have been so honored to do so. I hope to do the same for GBU's patients until I move on to my next phase of life: full retirement.
Request an appointment with Dr. Killeen in our Hyannis Care Center.