Did you know that Greater Boston Urology has its own in-house lab? It's true, and here are two things that make our lab unique.
First, we specialize in urologic pathology. In other words, our highly trained pathologist and laboratory director—Petronela Iorga—and her staff focus solely on urology specimens.
Second, we maintain a chain of control over your specimen from the moment of collection, through technician processing, through pathologist interpretation, through urologist consults with our pathologist, and finally to the moment your physician communicates your results to you. This chain of control significantly reduces the number of processing errors that occur when specimens are sent to contracted laboratories.
In terms of day-to-day operations, Mary Hulbert manages the GBU lab, which is located in the Framingham office building. Mary earned her Bachelor of Science degree in Diagnostic Genetic Sciences from the University of Connecticut in 2005. She then went on to receive her ASCP Board of Certification in Cytogenetics. She has been with GBU for four years.
Mary recently sat down with us for a Q&A session regarding her job and the GBU lab.
QUESTION: Let's pretend we're at a cocktail party, and someone says, "Mary, what do you do for a living?"
MH: I'd say that I'm the laboratory manager of a physician-owned laboratory specializing in urologic pathology.
As the laboratory manager, I oversee daily operations. My morning consists of conferring with the staff, making sure daily operations are running smoothly, and addressing anything that has come up.
For example, if a staff member needs coverage or help, I'll make sure that's taken care of. Then, my team and I will tackle workflow for the day and any technical issues, phone calls, reports—a gamut of stuff.
Sometimes there are special projects like new testing validations or new equipment. For example, we've just added new histology equipment. Histology is the study of tissues and cells under a microscope. The new equipment was added to accommodate our new histologist and improve daily operations. Right now, I am writing standard operating procedures, maintenance charts, and making sure that all equipment is calibrated and performs to CAP standards.
QUESTION: Tell us what you were doing when you first started with GBU?
MH: I started at GBU in 2013 and was initially in charge of cytology and FISH testing. I was then cross trained in the histology department and immunohistochemistry (IHC).
QUESTION: For the uninitiated, what is FISH testing?
MH: FISH stands for fluorescent in situ hybridization. FISH is a technique that allows the visualization of specific chromosome sequences within a cellular preparation like a urine cytology. Dr. Iorga screens all of our urine cytologies (urine cytology is a test that looks for abnormal cells in your urine). If any cytology samples are atypical or suspicious for tumors, they're reflexed to FISH. It's another test to help determine if any bladder cancer cells are present.
QUESTION: How big is your staff?
MH: I have four staff members. We have two people that work in the histology department, one that oversees cytology and chemistry testing, and one that focuses on FISH testing.
QUESTION: How does the GBU lab fit in with GBU's vision of providing extraordinary urology care with the highest level of patient service?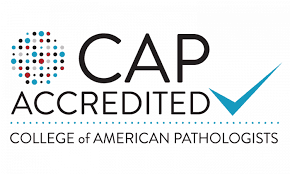 MH: Having an in-house CAP-accredited lab allows us to have the confidence that we are performing at the top national standards.
CAP stands for College of American Pathologists and is a voluntary accreditation program that support laboratories in their achievement of the highest standards of excellence in patient care.
We are one of 7,600 laboratories worldwide that have meet CAP standards of excellence. Our most recent CAP inspection was in December 2016, which we passed. The inspection is incredibly rigorous. An independent pathologist comes in with a team and they go through our lab and audit it from top to bottom. They look at everything, from what we're signing out to our maintenance records to everything in between. Everything has to be in line.
Having a top-level, high quality lab absolutely supports GBU's mission of providing excellent urology care and patient service.
QUESTION: On average, how many lab specimens does the lab process each month?
MH: On average, we do about 300 cytologies. We do approximately 80 prostate pathologies and about 60 urologic pathologies, which includes vasectomies and bladders. We do about 50 FISH, on average. And we've been averaging about 280 blood chemistries.
In terms of the blood chemistries, we run testosterone testing, PSA (prostate-specific antigen), free PSA, and the PHI (prostate health index).We're currently the only lab in New England that has validated and runs PHI.
QUESTION: You've been with GBU for four years. What attracted you to GBU?
MH: I love being part of something that's growing, but that's also focused on patient care. I found with bigger laboratories that it can sometimes be all about hitting a quota. The GBU lab is so patient driven and our technologists are given the time they need to go the extra mile. The sample we get isn't just a number; if someone on the team needs extra time, we encourage them to take it and ask questions to me and the pathologist. Dr. Iorga is really great and approachable, and she has no problem sitting down with us and helping us learn a little more about all the testing that we do here. It's nice having that connection with your medical director as well.
QUESTION: So give our readers a couple of interesting insights about the lab—a couple of behind-the-scenes tidbits that they might not otherwise be aware of.
MH: We have two couriers who drive to our seven different locations daily, Monday through Friday. They pick up all patient samples and deliver them right here to our lab in Framingham.
For the prostate biopsies, we use Know Error biopsy kits. Know Error applies the same forensic principles used in law enforcement and criminal investigation to compare and match DNA profiles. So at the time of a prostate biopsy, the patient will also get a cheek swab. The cheek swab is sent to Know Error directly from the doctor's office. If the prostate biopsy shows a positive malignant core, we will send a tissue sample to Know Error and they'll do a DNA match. So we're making doubly sure the cancer that's been detected does indeed belong to that particular patient.
QUESTION: If there's one thing you want patients to take away from this article in regards to the GBU lab, what is it?
MH: I would say the high quality of our work. As a patient, you can have confidence in our lab, thanks to the rigorous CAP accreditation. We have the right checks and balances in place. Plus, our lab is hyper-focused: it's urology-specific. We stand by our results and reports. I think it's easy for patients to think, "Oh, it's just a lab," but we focus on the patient. You're not just a number to us.
Thanks so much for your time, Mary!